First of all, thank you for actually spending time taking a look at a blog post titled: "My New Blog". I figured I had to start somewhere and this is what I came up with.
Boeing 787 "Dreamliner"
So, what will I be posting to this blog? The answer: anything travel related! This will not be a place to find deals or be sold on special packages, but rather a collection of interesting articles about places you may never have considered visiting, stories related to travel whether it be information about the 787 Dreamliner battery issues, the Carnival Triumph's power failure or the island of St. Lucia, recently named one of the most beautiful places on earth due to it's volcanic land formations, lush green vegetation and turquoise blue waters...
I'm looking forward to sharing my random thoughts and interests related to the world of travel, I invite you to comment with the first thing that comes to mind. Share your expediences, contribute a tip, disagree with me (but then you must tell us why) or start a new topic. I'm anxious to see this blog fill with real life stories, so write often and feel free to ramble!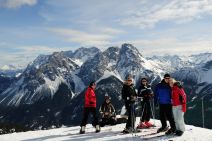 If you're in Kansas City or the Midwest, you know today was a pretty good snow day - 10 inches! (or pretty bad, depending on how you feel about snow) I am a skier so I tend to look at a day like today with excitement and a positive attitude. That said, it's shoveling time... Be Back soon!